Pee-Patch


£25.50 – £49.50
A 'Green' toilet solution for dogs and other pets following surgery.  An unwell dog may not be strong enough to make the journey outside to the toilet, the Pee-Patch has been developed with this in mind.
Pee-Patch is grown in the UK on a Yorkshire Farm, and is completely soil FREE so no mess!
The Pee-Patch grass is REAL grass grown on recycled, PLASTIC FREE matting which can be washed and reused for up to two weeks if maintained correctly.
All options come with FREE delivery with a 3-5 working day lead time (harvested fresh from the field).
PEE001 – Large Pee-Patch starter pack (Tray and grass mat)
PEE002 – Large Pee-Patch replacement patch (grass mat only)
PEE003 – Small Pee-Patch starter pack (Tray and grass mat)
PEE004 – Small Pee-Patch replacement patch (grass mat only)
To place an order or for further information please contact a member of our team, 01904 607600
Additional information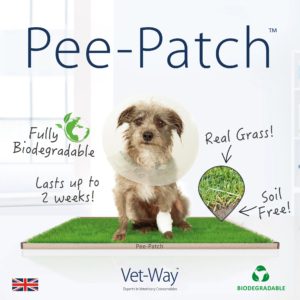 FAQs
Is Pee-Patch real grass?
Pee-Patch is 100% natural. The grass is grown in recycled textiles instead of soil. This process helps to extend the lifespan of our grass and prevents dogs from walking dirt around the area.
What sizes of Pee-Patch are available?
The Pee-Patch comes in a large 1.2m x 550mm size and a smaller kennel size which is 570mm x 390mm.
What is the delivery time on each order?
As this is real grass that needs harvesting freshly, we allow 5 working days from order to delivery.
How long will it last?
If your Pee-Patch is correctly maintained and kept moist it should last up to 2 weeks.
Where is the Pee-Patch grown?
Our Pee-Patch is grown here in the UK on a Yorkshire Farm.  By buying our Pee-Patch you will be supporting British manufacturing and backing British Farming!
Can it be used outside?
Yes! If using your Pee-Patch outside, we recommend you place it in an area where it can be protected from the rain and intense sunlight, in order to prevent the grass from becoming oversaturated or scorched. If your Pee-Patch does become oversaturated, please drain the excess fluid from the tray so that your grass can dry.
Why not use normal turf from a garden centre?
Pee-Patch grass offers a number of benefits over the grass you'll find at your local garden centre. The grass at garden centres will wilt and die within 48 hours if it's not planted into the ground. Pee-Patch is grown in a moisture retentive mat, the grass grows strong and healthy and its natural life can be extended through careful maintenance. The grass at garden centres is grown in soil which easily falls from the roots of the plant.
How do I clean the Pee-Patch?
Pee-Patch is a low-maintenance dog toilet solution. Urine is drained naturally from the surface, however, solid waste must be removed and disposed of. While caring for your Pee-Patch may extend its lifespan, there is no requirement to do so and Pee-Patch will last between 1-2 weeks before a replacement is required. A gentle spray of water will keep it looking green and healthy!  When you are ready to dispose of your Pee-Patch, simply remove the grass mat and place it into the garden waste collection (where applicable).